MONO, AMENRA, TRÄD, GRÄS OCH STENAR, SIENA ROOT, ESBEN & THE WITCH, HILLS, BO NINGEN e muito mais para ver a 8 e 9 de Setembro na Ribeira de Santarém.
Já há horários para a 4ª edição do REVERENCE FESTIVAL, a ter lugar na idílica zona do Parque da Ribeira de Santarém entre 8 e 9 de Setembro. Os nacionais MOONSPELL e os belgas AMENRA e OATHBREAKER são cabeças-de-cartaz no primeiro dia do certame, 8 de Setembro, sexta-feira, sendo que os japoneses MONO, os ingleses GANG OF FOUR e os suecos TRÄD GRÄS OCH STENAR encerram o festival, no dia seguinte, 9 de Setembro, Sábado.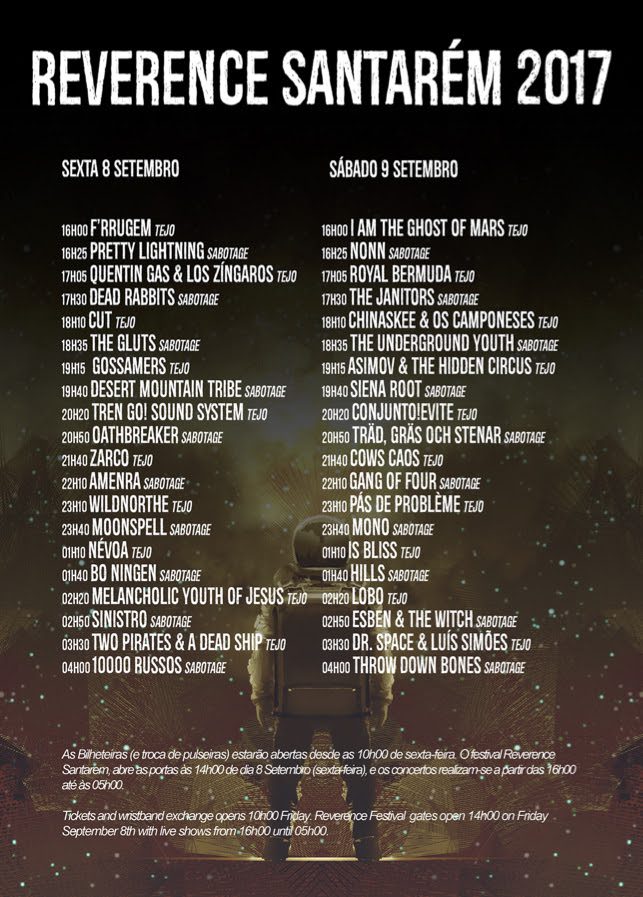 Os bilhetes para o festival podem ser adquiridos na bilheteira online e locais habituais, estando até dia 31 de Agosto a um preço especial de 55€ o passe geral e o bilhete diário a 35€.